Dove Grey Fama Pouch
Japanese beads and fine dabka Zardosi hand embroidered ombre silk pouch with a bottom tassel, wristlet and long chain handle. Size: 22x19cm. Collection: Celebratio. Color: Silver. Care: Store in dust bag. Keep away from moisture.
Only 1 left in stock (can be backordered)
This item will be delivered between 22, June 2020 to 24, June 2020
Additional information
| | |
| --- | --- |
| Weight | 1 kg |
| Dimensions | 21 × 23 × 9.5 cm |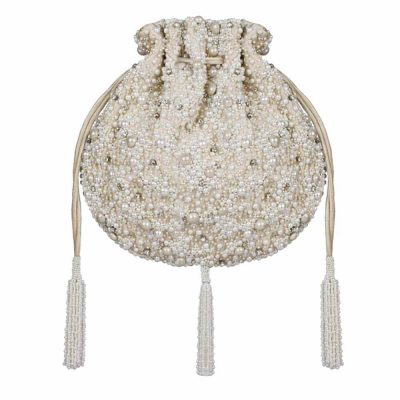 Classic Pearls At Special Prices, Collection, Essential The Wedding Edit, Here, Most Wishlisted, Mother's Day Special, Pearl Magic, Potlis, Pretty in Pearls, Shop, Special Prices - Style Diaries, Summer Wedding Edit, Timeless Classics, Timeless Potlis At Special Prices, Sale
DESCRIPTION: This elegant and timeless pearl pouch doubles up as a bucket bag and a potli. It is delicately hand embroidered with fine  japanese beads, pearls and dimantes.  It has a suedette lining ,long detacheable chain handle, wristlet handles and handbeaded tassels .The design is reminiscent of the patterns created by mist and fog in a meditative setting and is symbolic of the idea that all the world's beauty is present right HERE within us. STYLE TIP: Carry it as a bucket bag with westernwear as well as traditional Indianwear. Style it with plush velvets, satins and silks for a luxe look. COLOR: Ivory. CARE: Store in dust bag. Keep away from moisture. DIMENSION: 24 cm x 22 cm.
₹

9,300