Crimson Red Rosette Frame Pouch
DESCRIPTION: This frame pouch is intricately hand embroidered with fine Japanese seed beads. The pattern reflects the exuberance of roses with an ombre' effect. It has a suedette lining and long chain handle. Color: Crimson Red. CARE: Store in dust bag. Keep away from moisture . DIMENSIONS: 22 cm x 23 cm.
Only 1 left in stock (can be backordered)
This item will be delivered between 22, July 2020 to 24, July 2020
Additional information
| | |
| --- | --- |
| Weight | 0.75 kg |
| Dimensions | 20 × 20 × 10 cm |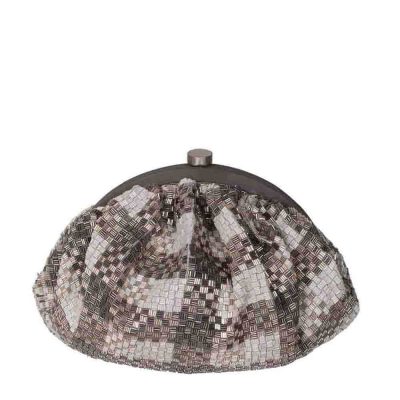 All That Glitters, Collection, Iris, Most Wishlisted, Shop, Sterling Silver, Valentines Day Offer, Pouches, Sale
DESCRIPTION: This elegant pouch is delicately hand embroidered with fine japanese bugle beads. It has a suedette lining & long detacheable chain handle . The design has an iredescent feel, transporting one to an awe inspiring world of fantasy. STYLE TIP: Carry it as a sling bag with your blue denims, classic blouses, maxis , evening ensembles as well as traditional Indianwear for a boho chic look. COLOR: SILVER. CARE: Store in dust bag. Keep away from moisture. DIMENSIONS: 26 cm x 16 cm.
$

139